Funeral of Pte Anthony Frampton held in Huddersfield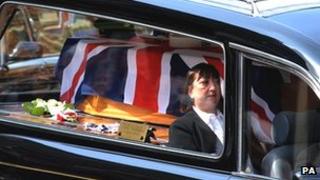 A West Yorkshire soldier killed in a bomb attack in Afghanistan has been described as "courageous" by one of his commanding officers at his funeral.
Pte Anthony Frampton, 20, of 3rd Battalion, the Yorkshire Regiment, was caught in an explosion on 6 March.
Pte Frampton died alongside five colleagues while on patrol in an armoured vehicle in Kandahar province.
Hundreds of people lined the streets around Huddersfield Parish Church as Pte Frampton's funeral got under way.
His coffin was carried into the church with full military honours as onlookers burst into spontaneous applause.
'Tremendously talented'
Also killed in the attack were Cpl Jake Hartley, 20, Pte Christopher Kershaw, 19, Pte Daniel Wade, 20, and Pte Daniel Wilford, 21, all also of 3 Yorks, and Sgt Nigel Coupe, 33, of 1st Battalion The Duke of Lancaster's Regiment.
The soldiers, who had been in Afghanistan for only a few weeks, were killed when their Warrior vehicle was blown up by an improvised explosive device about 25 miles (40km) north of the capital of Helmand province, Lashkar Gah.
Maj Malcolm Birkett, commanding officer of the 3 Yorks soldiers currently based in the UK, paid tribute to Pte Frampton.
"Anton was a positive character whose smile could light up the room. He was an individual that was tremendously talented at what he did, especially in the armoured infantry world," said Maj Birkett.
"He'll be sorely missed by his friends and family in particular and he is an individual that epitomises everything that is right about the modern infantryman - courageous, loyal, hard working. An infantryman to the end."
Pte Frampton, who was known as Anton, was an apprentice welder before deciding to join the Army in 2009.
In January 2010, he completed a tour of duty in the Falklands.
Final letter
In church, Pte Frampton's mother, Margaret Charlesworth, 47, read out her son's final letter to her, only to be opened in the event of his death.
A section read: "I just want to thank you for everything you have ever done for me, you are the best mum in the world.
"Even though I am not around, I will always be around keeping you safe and one day we will be back together.
"I love you, Mum, stay strong, Love Anton."
Mrs Charlesworth said after reading the letter: "Anton, your duty on this Earth is now done. Stand easy, my beautiful boy."
Pte Frampton is survived by his mother, father Gary, stepfather Martin Charlesworth, sisters Gemma and Nicola and great uncle Pat.
Applause could be heard again as Pte Frampton's body was driven away from the church to a private cremation.
The funerals of Cpl Hartley and Sgt Coupe were held last month and the funerals of the other soldiers killed in the explosion will follow this month.