Leeds West Point flats without water for days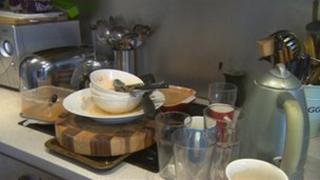 Hundreds of people living in a luxury apartment block in Leeds have been told they will be without water for up to three days after a pipe fractured.
Water to all 353 apartments within West Point, in the city centre, was turned off at about 09:00 BST on Wednesday.
In a letter to flat owners management agent Mainstay Residential said it was working to fix the pipe quickly and had given residents bottled water.
Resident Luke Cogher said the estimated length of the work was disappointing.
Part delivery
He said: "It's been a pretty major inconvenience to be honest because obviously the tap isn't running and the toilet won't flush and I can't have a shower.
"The water went off yesterday morning and I thought maybe it'll just be off for an hour or so.
"I was very surprised to hear that it might be off for three or four days before we get any running water again, which is a bit disappointing."
In its letter, Mainstay Residential said the pipe repair could take up to 72 hours as it was waiting for delivery of a part and would then have to wait 36 hours for adhesive to set.
It added: "We realise that this is an inconvenience to you, but please be assured that we have taken all appropriate steps to ensure the repair is actioned immediately."
A spokesman for the company said it could not comment further but staff held regular meetings with residents where they could discuss concerns.