Leeds West Point flats remain without water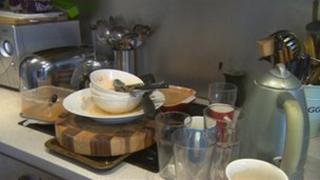 Residents in a Leeds apartment block, which has been without water since Wednesday, fear it could be another two days until supply is restored.
Water to all 353 apartments in West Point, in the city centre, was turned off about 09:00 BST on Wednesday because of a fractured pipe.
Resident James Dodsworth said it was understood the supply would not be restored until later in the weekend.
Mainstay Residential said it was working to fix the pipe.
In a letter sent to residents on Wednesday, Mainstay Residential said the pipe repair could take up to 72 hours as it was waiting for delivery of a part and would then have to wait 36 hours for the adhesive to set.
Mr Dodsworth, who is self-employed and works from home, said it was understood the part had now arrived.
He said: "That means we're looking at about Sunday until we get the water back on.
"It's a really grim now. I've got business meetings and I'm having to drive 20 miles to go to my parents' house for a shower. It's just not good enough."
Residents have set up a blog detailing comments from people living in the apartment block.
One comment said: "This is beyond a joke now. We are three days without water.
"I cannot believe Mainstay have not supplied us with portable toilets, there are families and professionals that live here.
"There are over 300 apartments in this building, it's disgusting that they can just let us live like this."
Another said: "Disgraceful. The flats are completely unliveable. Unable to wash up properly, shower, or even use the toilet flush."
A spokeswoman for the company said it could not comment further.