Bradford Labour appoints David Green as leader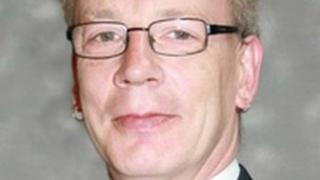 Bradford's Labour group has appointed a new leader to replace Ian Greenwood, who was ousted by a Respect candidate in the local elections.
Wibsey councillor David Green, who has been the council's executive member in charge of regeneration, was appointed leader on Tuesday night.
Labour will either continue to run the council as a minority administration, or form a coalition with the Greens.
Mr Green said the party would learn lessons from the election results.
Mr Greenwood lost his Little Horton seat to Respect's Alyas Karmani after three re-counts.
The result came after Respect's George Galloway took the Bradford West parliamentary seat from Labour in a by-election.
'Listen more'
But the number of Labour councillors in Bradford rose from 43 to 45, and if Mr Greenwood had won his seat it would have seen his party take overall control of the council.
Mr Green said: "There's clearly some lessons to be learned by the party in Bradford we need to improve our communications.
"We need to listen more to perhaps some of the groups we have not been in close contact with.
"We are committed to make sure that we learn from those mistakes and we become a party for the whole of the Bradford district."
Mr Green said Labour had been successfully working with the Green party in Bradford for two years.
"We have talked together and put forward policies to deliver some real achievements in Bradford and if the Green party are willing to continue with that relationship it's certainly something we'll look at."