West Yorkshire rail death mother's safety plea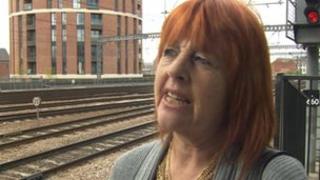 A mother whose son was killed while running along a railway line has appealed to young people not to take shortcuts along the tracks.
Wendy Smith's son, Ricky, aged 15, was killed on the railway line at Halton Moor in Leeds in 1997.
Her comments come as it emerged there were 48 near misses on the tracks in Yorkshire in 2011.
A Network Rail spokesman said shortcuts "cut short lives" and conditions near the track were "very unstable".
Ms Smith, of east Leeds, said it was difficult reliving the circumstances of her son's death, but if it saved lives, it was worth it.
Quicker trains
She said: "I went up there afterwards [to the tracks] and thought, why can't they see it? Why can't they hear it?
"It's not like when I was a kid and the trains had steam coming through.
"They're a lot quicker than you think they are.
"They are quieter than you think they are and even once they've put the brakes on it takes about a quarter of a mile to stop because of the weight."
Network Rail released figures showing that in Yorkshire there were dozens of near misses on the tracks.
In West Yorkshire there were 24 recorded incidents classed as near misses.
'Simple message'
In South Yorkshire there were 13 incidents and in North Yorkshire six.
Across East Yorkshire there were five such incidents recorded.
Ms Smith added: "My message is simple, no matter how much time you think a shortcut will save you or how much your mates are saying it's OK, do not go on the railway tracks."
Phil Verster, route managing director for Network Rail, added: "We all know that young people - especially young men - think they are invincible.
"Wendy's story highlights only too tragically that is not the case. Last year train drivers reported a near miss with a person on the lines in Yorkshire on 48 occasions.
"That's 48 times when someone put themselves and others at risk. Shortcuts cut short lives.
"The conditions on the tracks, under foot are very unstable, it's very difficult to run, very difficult to walk close to the railway line."