Leeds Cardinal Heenan School to host BBC debate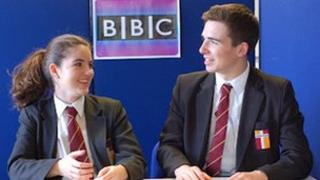 A Leeds school has won a national competition to host a BBC political debate programme.
Kirsty Wark presented the debate at Cardinal Heenan Catholic High School with a pupil on the panel.
The panel of politicians include recently elected Respect MP for Bradford West, George Galloway and Labour's Leeds West MP Rachel Reeves.
The programme was broadcast live on the internet and will be repeated on the BBC Parliament channel.
The school was one of six winners of the BBC Schools Questions and Answers Challenge.
For their winning entry Cardinal Heenan pupils filmed a debate on the anti-corporate greed protesters outside St Paul's Cathedral, London, and in other major cities including Leeds.
English teacher Maura Rutherford said before the discussions: "By debating the issues arising from the protest camps our students showed BBC judges that they enjoy discussing issues that affect them, their communities and the wider world.
"This live BBC broadcast is a wonderful opportunity for pupils to debate directly with leading politicians and people who hold power.
"Our pupils will be the studio audience. They will be as much part of the programme as those sitting on the panel."