Memorial service for British soldiers killed in Afghanistan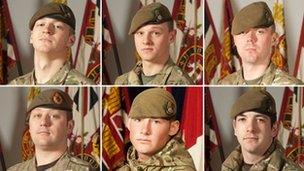 A remembrance service for six British soldiers killed in Afghanistan has been held in West Yorkshire.
Cpl Jake Hartley, 20, Pte Anthony Frampton, 20, and Pte Christopher Kershaw, 19, died when their armoured vehicle was hit by a Taliban bomb.
Pte Daniel Wade, 20, Sgt Nigel Coupe, 33, and Pte Daniel Wilford, 21, were also killed in the blast on 6 March.
The service was conducted by the Bishop of Wakefield, the Rt Rev Stephen Platten at Huddersfield Parish Church.
Of the five men serving with 3rd Battalion The Yorkshire Regiment, three were from Huddersfield.
Sgt Coupe, from St Annes in Lancashire, was on secondment to the regiment from 1st Battalion The Duke of Lancaster's Regiment.
His funeral and that of Cpl Hartley's were held last month.
The Reverend Simon Moor, the vicar of Huddersfield Parish Church, said the community was still upset by their deaths.
"I have been struck by the weight of feeling of people for these recent sad deaths and many had asked if we could do something," he said.
"This memorial service is a chance for the town and the wider community to come together, pay their respects and remember all our young men and women who had given their lives for their country out there."
Bishop Platten said: "The church is committed to doing everything it can to support the families of those involved in the war in Afghanistan and indeed the wider community who have been touched by recent events."
The funerals of Pte Frampton and Pte Wilford's were held at Huddersfield Parish Church earlier this month.
Pte Wade's funeral took place in Warrington, his home town, on Friday.
The funeral of Pte Kershaw, who was from Bradford, is due to be held on 24 May.
All six soldiers had been deployed to Afghanistan on 14 February.
The men had been on a security patrol in a Warrior armoured fighting vehicle when it was caught in an explosion in Kandahar province.
Related Internet Links
The BBC is not responsible for the content of external sites.