Girl, 7, in Wakefield Cathedral VAT protest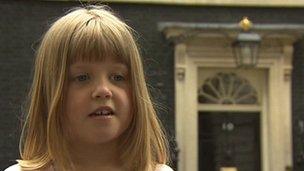 A seven-year-old girl from West Yorkshire has written to David Cameron asking him to scrap the imposition of VAT on alterations to listed buildings.
Sophie Clucas, from Wakefield, said restoration work on the city's cathedral, which she visits every Sunday, would stop due to rising costs.
From October, VAT will be charged at 20% on alterations to listed buildings - work currently exempt from the tax.
The Dean of Wakefield said he was "touched" by Sophie's letter.
Sophie, who is a pupil at Horbury St Peter's and Clifton School, said: "We have been saving lots of money to make our cathedral better and now we don't have enough to finish the work.
"It is making us all really sad. I hope Mr Cameron will listen to us and help us out of this mess."
Sophie personally handed in the letter at 10 Downing Street alongside her mother and grandmother.
A £2.5m renovation project at Wakefield Cathedral started in February, just weeks before Chancellor George Osborne announced the VAT change in his Budget.
The Grade 1 listed cathedral could now face an extra bill for several hundred thousand pounds in tax.
An online petition set up by the the Dean of Wakefield, the Very Reverend Jonathan Greener, calling for the change in VAT rules to be reversed has so far attracted nearly 11,000 signatures.
He said Sophie's letter came "out of the blue".
"I must admit to being enormously touched by it.
"It is wonderful that little Sophie recognises how precious the cathedral is, not just for her own family and the part it has played in all their lives over the years, but for the people of Wakefield and beyond.
"I truly hope Sophie's letter will help see others see sense on this issue."
The government has said the change to VAT "removes a perverse incentive to change listed buildings rather than repair them".
Related Internet Links
The BBC is not responsible for the content of external sites.