Bradford drivers face bus lane fines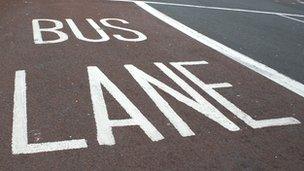 Motorists in a West Yorkshire city who illegally drive in bus lanes are being warned they face fines if they are caught by new CCTV cameras.
Bradford Council said the enforcement cameras will monitor six bus lanes in Bradford and Keighley.
CCTV footage from Manningham Lane, Bow Street, Nelson Street, Bradford Road, Bingley Road and Thornton Road, would be reviewed daily, the council said.
Drivers found to be flouting the law would be required to pay a £60 fine.
The fine would be reduced to £30 if paid within 14 days, but it would increase to £90 if it was not paid within 28 days, the council warned.
Councillor Andrew Thornton, Bradford Council's executive member for the environment, said the cameras were not about punishing the motorist but to enforce regulations already in place.
"It's about making sure that public transport can get to and from the city centre in a timely fashion," he said.
"We want to make sure public transport is attractive for people to use, and making sure it runs to time is part of that."
Money raised from the fines would be used solely for traffic improvements and enforcement, Mr Thornton added.
In February, neighbouring Leeds City Council revealed a similar scheme had reduced bus lane offences by more than 80% since its launch in August 2011.
Related Internet Links
The BBC is not responsible for the content of external sites.