Leeds Uni 'bee friendly' garden at Chelsea Flower Show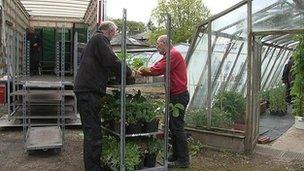 A team of West Yorkshire academics who have created a "bee friendly" garden are preparing to exhibit it at the Chelsea Flower Show.
The garden is based on research carried out by scientists at Leeds University.
Dr Rebecca Slack, from the university's faculty of environment, said it was designed to show how people could make their gardens more attractive to bees.
"We wanted to show that how individuals act in their gardens can really affect the local bee population," she said.
The collapse of bee populations has been recorded around the world although extensive research has yet to identify the cause of the decline.
Gardens took up an estimated 20-35% of space in UK cities and had a "massive" effect on the wider environment, said Dr Slack.
With that in mind, three themes - pollination, water management and carbon management - ran through the garden exhibit, she said.
"We chose these themes because they reflect our research, but more importantly they have a very real impact on people's everyday lives and, crucially, they are things which people can really have an impact on."
Leaving grass to grow a little longer and letting logs rot naturally would all help to make gardens more environmentally friendly and also help to boost the bee population, said Dr Slack.
Designed by Chelsea gold medal-winning designer Martin Walker, the exhibit is said to resemble a "typical" northern garden.
It is now set to be packed up and transported from Leeds University to London before being recreated at the Chelsea Flower Show, which runs from 21-26 May.
Related Internet Links
The BBC is not responsible for the content of external sites.