Molly Wright murder: Jailed son-in-law is innocent, says family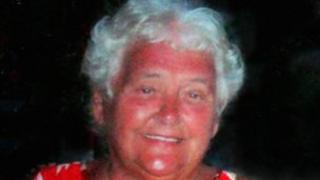 The family of a 73-year-old West Yorkshire woman who was battered to death in her home has said the man jailed for her murder is innocent.
David Hill, from Pontefract, was jailed in 2008 for the murder of his mother-in-law, Molly Wright, in Castleford.
Jill Northwood, Mrs Wright's daughter and Hill's sister-in-law, said evidence presented in court "did not quite fit".
However, West Yorkshire Police said Hill's conviction had been to appeal and the guilty verdict had been upheld.
'Chance opportunist'
During his trial at Leeds Crown Court in May 2008 the court heard that Hill, now 52, had used a heavy instrument to hit Mrs Wright over the head, leaving her lying in a pool of blood in September 2006.
Hill, a market trader, then returned to the house feigning shock at her death, the court was told.
The jury heard Hill had been hiding debts of about £20,000 from Mrs Wright, his business partner at Castleford indoor market, after taking out a series of loans and credit cards.
Hill was found guilty and jailed for life, with a minimum term of 14 years.
Mrs Northwood said she believed a "chance opportunist" who knew Mrs Wright was alone and had cash in her home, had killed her - not her brother-in-law.
She appealed for anyone with information to come forward.
'Long, cold look'
"Somebody out there knows something that can help us, help me and my family, to have some peace of mind about my mum to stop making this a double tragedy."
Maxine Hill, David Hill's wife and Mrs Wright's daughter, said she wanted justice for both her husband and her mother.
"We've taken a long, cold, hard look at the facts and come to a decision based on the evidence," said Mrs Hill.
"Lots of the points put forward just do not make sense."
Andy Brown, a former West Yorkshire detective, said he supported Mrs Wright's family in their belief that Hill was wrongly convicted.
A number of issues had not been resolved during Hill's trial, said the former Det Ch Supt Brown, including that bogus officials had reportedly visited Mrs Wright and tried to gain entry to her home shortly before her murder.
A West Yorkshire Police spokesman said: "This case went to trial at Leeds Crown Court four years ago which resulted in a guilty verdict.
"It has subsequently been through the Court of Appeal and been considered by the Criminal Cases Review Commission where the decision has been upheld."