Church VAT offer not enough: Dean of Wakefield's wife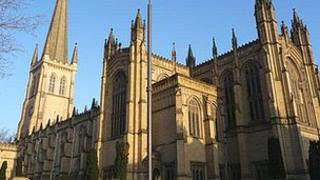 A £30m government offer to fund repairs and alterations to the Church of England's 12,500 listed buildings does not go far enough, the wife of the Dean of Wakefield has said.
The package is designed to offset the introduction in October of 20% VAT on alterations to listed buildings.
The offer was made after protests from the Church and heritage organisations.
Pamela Greener, who recorded a song against the plan, said repairs to listed buildings should stay tax free.
The Church of England unsuccessfully lobbied the government to scrap the change in VAT rules.
'Long term uncertainty'
A £2.5m renovation project at Wakefield's Grade I listed cathedral started in February, just weeks before Chancellor George Osborne announced the VAT change in his Budget.
As a result, the cathedral faced an extra bill for several hundred thousand pounds in tax.
Mrs Greener said it would be "churlish" not to welcome the announcement of increased government funding.
However, it offered "short-term church relief en route to long-term church uncertainty", she said.
People had "a responsibility not to let the nation's heritage slip through our fingers", she added.
An online petition set up by the the Dean of Wakefield calling for the change in VAT rules to be reversed has so far attracted nearly 11,350 signatures.
The government said the change to VAT removed "a perverse incentive to change listed buildings rather than repair them".