Obstacle-ridden Leeds pavements targeted by new patrols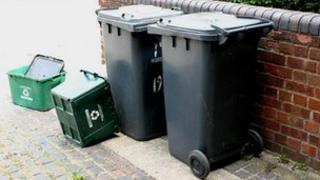 Patrols are to be launched in parts of a West Yorkshire city in a bid to shame local residents into keeping pavements clear of obstacles.
Blind and partially-sighted people were at "significant risk" due to blocked pavements, Leeds City Council said.
The patrols, including police and Leeds City Council officers, would target unthinking drivers and people leaving bins out, said the council.
Repeat offenders would face warning notices and fines, the council warned.
The patrols will initially begin in Beeston, with enforcement staff sending advice letters to local residents who are blocking pavements with cars or bins.
'Reclaim pavements'
Victor Jackson, chairman of the Leeds and District branch of the National Federation of the Blind, said he welcomed the clampdown.
"It's about time we reclaimed the pavements from the unthinking actions of others," Mr Jackson said.
"If people had their sight or mobility hampered in some way they would quickly find out just how hard something simple like walking down the street can be."
Councillor Mark Dobson, Leeds City Council's executive member for the environment, said in most cases people did not even realise the problems they were causing for pedestrians.
"They just haven't thought through the consequences of their actions," he said.
"Once people realise the potential danger they are causing, I'm confident they'll take action accordingly."