Drunken driver jailed for killing couple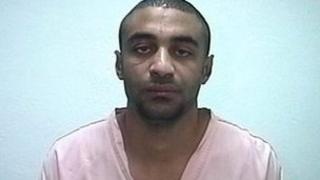 An "aggressive" drunken driver has been jailed for nine years for killing a West Yorkshire couple when he ploughed into their car at 100mph.
Eduard Mereohra, 26, hit the back of David and Dorothy Metcalf's car on the Stanningley bypass in Leeds on New Year's Day, Leeds Crown Court was told.
He had twice the permitted level of alcohol in his system.
Mereohra, a Moldovan who was in the UK illegally, admitted two counts of causing death by dangerous driving.
The court heard the impact of the crash sent the Metcalfs' Fiat 10ft (3m) into the air, causing it to flip end over end.
Mr Metcalf, 68, from Tinshill, Leeds, was killed instantly while his 65-year-old wife died later.
'Decent and hard-working'
Several witnesses had earlier seen Mereohra driving at speed, tailgating motorists and forcing them to brake sharply when he overtook them, the court was told.
Mereohra ran away from the scene of the accident after initially approaching the wrecked vehicle and lied in police interviews about who was behind the wheel, the court heard.
Judge Geoffrey Marson said Mereohra had callously tried to blame Mr Metcalf for causing the accident and had done "almost everything you could to protect yourself".
In his drunken state Mereohra had made a deliberate decision to drive aggressively, said Judge Marson.
The victims were "decent and hard-working", who had "everything in their retirement to look forward to", he said.
The court was told that Mereohra had entered the country illegally on two occasions.
Clive Metcalf, the victims' son, criticised the UK Border Agency and the Home Office for allowing Mereohra to return to the UK.
"Had he not been in the country the accident would never have happened," said Mr Metcalf.
Simon Walker, from the UK Border Agency said Mereohra's deportation would be "vigorously" pursued at the end of his sentence.
In a letter written to the BBC before his sentencing, Mereohra said he had made "a terrifying mistake" and he felt like he had died with the victims of the crash.
Asking for the Metcalf family's forgiveness he said: "I will have pain in my heart for all my life for what I did."
Mr Metcalf said: "We have been told that he is sorry, but we simply cannot accept that as a genuine apology."