Swimmers 'risking lives in Yorkshire reservoirs'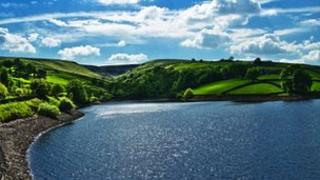 People swimming in reservoirs in Yorkshire are putting their lives at risk, a water firm has said.
Yorkshire Water said there had been several incidents at reservoirs over the weekend.
A spokesman said in one instance vandals had accessed reservoir outlet valve towers and jumped from them into deep water.
The firm said the very cold water and under currents were a lethal combination for even strong swimmers.
The warm weather of the past week has also led to other issues at the company's reservoir sites, including incidents where people have set up camp and lit fires, which the company said was "strictly prohibited".
Diving platforms
Incidents over the weekend included two people swimming in Eccup Reservoir on the outskirts of Leeds.
At Broomhead Reservoir in South Yorkshire people set up camps, lit fires and constructed a rope swing from which some were swinging out over the water and dropping in.
At Lower Rivelin Reservoir in South Yorkshire the water firm said people had damaged fencing to access the reservoir's outlet valve towers and then used the towers as diving platforms.
Matt Thompson from Yorkshire Water said: "It's a very stark message, but if you enter our reservoirs, for whatever reason, you may not come out alive.
"They may seem like a good place to take a swim or cool down but, in fact, this couldn't be further from the truth.
"When fatalities occur - and they do across the UK each year - it's often the temperature which is the most significant factor.
"Reservoirs are deep and the water doesn't flow like in rivers or the sea so the temperature rarely rises much above 12C.
"Strong current also lurk beneath the surface of often calm looking waters as we draw water into our supply network.
"It really doesn't matter how well you can swim as it's the cold which paralyses your muscles, meaning the victim is unable to stay afloat and if help doesn't arrive within seconds, they will drown."