Shamirah Grant's friend holds walk in crash victim's memory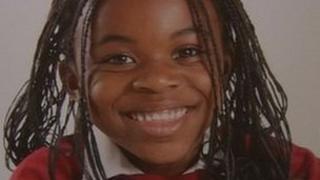 A 13-year-old girl from Leeds is holding a fundraising walk to commemorate her dead friend.
Shamirah Grant, nine, died when she was hit by a car driven by a learner driver in Chapeltown, Leeds last year.
Finlae Woodhouse, 13, who was injured in the incident, has organised the walk to raise money for a charitable trust set up in memory of her friend.
The driver Beatrice Mawamba was jailed for two years after admitting causing death by dangerous driving.
Finlae spent time in hospital after the crash and is taking part in the five-mile walk despite still needing to undergo further surgery on her injuries.
"They set up a fund and I just thought I should do it," she said.
"I'm trying to raise a lot of money to support it."
The Shamirah Grant Memorial Bursary was set up by her parents Gary and Jennifer Grant.
It provides financial support for disadvantaged students from the Chapeltown area to attend arts courses at Leeds Metropolitan University.