Diamond Jubilee: West Yorkshire beacons set alight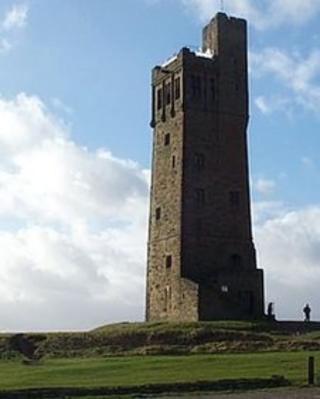 More than 30 beacons have been lit across West Yorkshire to celebrate the Queen's Diamond Jubilee.
Otley Chevin, Pontefract Castle and Castle Hill, Huddersfield were among more than 4,000 around the world where beacons were lit in sequence.
The Victoria Tower on Castle Hill was built to commemorate Queen Victoria's Diamond Jubilee in 1897.
The fires were lit to mark the Queen becoming the second monarch in British history to celebrate a 60-year reign.
Castle Hill is over 900 ft (275 m) high and was the site of an iron age hill fort.
Denise Jeffrey, from Wakefield Council, said she was "delighted" Pontefract Castle was taking part having become a royal castle in 1399, although it dates back to the 11th Century.
The beacon on the Chevin was lit by the Lord Mayor of Leeds and at Surprise View the ridge, overlooking Otley and Wharfedale, is 925 ft (282 m) high.
Originally used for communication or as warnings, beacon chains have come to be used for celebrations.
They were lit for Queen Victoria's Diamond Jubilee in 1897 and Queen Elizabeth II's Silver and Golden Jubilees in 1977 and 2002.