Occupy group 'to stay at Bradford Westfield site'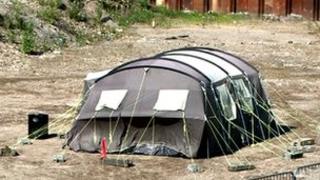 A camp set up by protesters on derelict land in the centre of Bradford will stay in place until Saturday, a spokesman said.
People occupying the derelict land earmarked for a new shopping centre have been asked to leave.
Westfield, the company behind the development plans, have sent a letter to protesters urging them to leave.
The protesters said they had a point to make. Council leader David Green said they had ignored offers of a meeting.
The group of Occupy Westfield protesters said they were "ignoring" the letter from Westfield.
Work on the retail development started in March 2004 but was halted in February 2008, leaving a building site in the city centre.
'Public opinion'
The group pitched tents on 26 May to raise awareness about the lack of progress on the stalled project, it said.
Alias Yousaf, of Chambers Solicitors, which is representing the protesters, said the group wanted to reinforce their position.
He said: "They felt that the overwhelming majority of public opinion was with them and if they had left the site then nothing would happen [in terms of development].
"They will continue to do as the public wants."
Mr Green said he had tried to contact the group but had not yet heard back from them.
He said: "I haven't met them as of yesterday [Tuesday] and have had no response to the latest letters trying to arrange a meeting.
"They are demanding a public inquiry, but the reality is, a public inquiry into what?
"They want a meeting with me to discuss the reason behind the delay with Westfield.
"But I don't accept they needed to occupy private property to get a meeting, they just have to pick up the phone."
Westfield said camping on the land was "counter-productive" and that protesters should instead help get positive messages about Bradford out to potential retailers.