Bradford Mela cancelled due to waterlogged Peel Park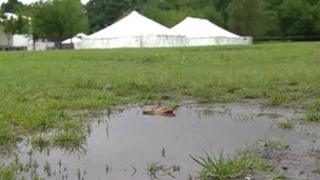 The Bradford Mela cultural festival that attracts thousands of visitors has been cancelled due to a waterlogged park, the council has said.
Bradford Council said Peel Park could take "years to recover" if the event went ahead on Saturday.
It said there were pools of water in key areas, including the car park, which left it with no other option.
Bradford staged its first Mela in 1988 and the Asian-themed festival attracts attendances of up to 100,000.
The Met Office confirmed there would be showers throughout Friday and overnight, adding to the already saturated ground.
Phil Barker, the council's assistant director of sport and leisure, said: "If there was any way we could go ahead with it we would, but we have to be realistic and consider the safety of the public and the effect it would have on the park itself."
The event was first staged on fields near Bradford University then it moved to Lister Park before going to its current home, Peel Park. It was also cancelled in 2007 due to the weather.
The Mela traditionally features food, entertainment, street theatre and funfair rides.