Honley Show in Kirklees cancelled after heavy rain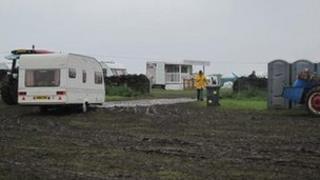 A one-day agricultural show in West Yorkshire has been cancelled at the last minute following heavy rain, organisers have said.
The Honley Show in Huddersfield was called off just hours before the event was due to start at Moor Lane.
President Alan Turner said it was the third time in the event's 90-year history that it had been cancelled.
He said: "The reality is we can't get anything on or off the field. The ground conditions are terrible."
Mr Turner said: "It's not a decision taken lightly but we were there at six this morning and it's impossible to put the show on."
He added: "It's so disappointing.
"Our group of helpers have worked solidly throughout the week in very difficult conditions we were very, very hopeful and optimistic of putting that show on."
On Friday it was announced that the Bradford Mela cultural festival had been cancelled due to a waterlogged park.
Bradford Council said Peel Park could take "years to recover" if Saturday's event had gone ahead.
The authority has said the Mela might have to be staged at a different time next year because of changes in weather patterns.