Flood-hit residents in Leeds start clean-up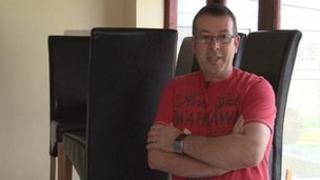 Residents are clearing up damaged properties after flash floods hit parts of West Yorkshire at the weekend.
Several homes in east Leeds were flooded on Sunday as drains failed to cope with torrential rain.
One resident, Stephen Reed, said his property was "totally inhabitable" and he expected his family would not be able to return for up to six months.
He said: "The floor has to come up, the kitchen and bathroom needs to come out and plaster is off the walls."
As well as flooding to properties, parts of the M1 in West Yorkshire were closed following heavy rain.
Mr Reed said up to 2ft of water came into his house in a short period of time.
"We were all sat round having my dinner, my daughter and grandchildren, and we noticed it was coming through the back," he said.
"I went and had a nosey and within 10 minutes we were 2ft foot under water."
The family is now living with relatives until insurers arrange for rented accommodation whilst renovation work is carried out on the home.
Mr Reed said: "We understand we could be out for anything up to six months.
"Once everything is ripped out and dried you're then looking at eight to 12 weeks before the house is back to how it should be and fully renovated."
Another resident, Paul Burrow, said all the flooring in his home had had to be ripped up after water came into the house through the carpet.
He said: "We've gone from the horror of seeing the water rising and coming into our homes to then seeing the total devastation it's caused after a couple of hours to now trying to be positive and trying to go forward and work with the insurers."