Kirklees Council staff 'considering' more strike action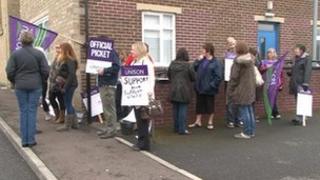 Council services in parts of West Yorkshire could be disrupted by further industrial action, a union has said.
Administration workers at Kirklees Council staged a three-day strike, from Tuesday, over job cuts and some staff being put on lower pay grades.
Refuse collectors not involved in the dispute refused to cross picket lines, affecting bin collections in parts of Huddersfield on Tuesday.
The council said it was trying to minimise redundancies.
Louise Boothroyd from the trade union Unison described the support for the action as "really good."
'Options offered'
She said that further strikes could follow in the weeks to come.
"We want to meet again with all the members for them to decide what further action they want to take," she said.
"There may possibly be further action if management aren't prepared to talk and negotiate with us."
In a statement, Kirklees Council said the changes were part of an ongoing review of the authority's administration services.
"As part of this review the council has worked with staff, including their trade unions, to minimise the number of redundancies and this is being done by giving staff a choice of options to stay employed whilst we redesign the council to ensure it can carry out its work in the face of continuing cuts from central government to local councils," it said.