Leeds Trinity University College seeks university status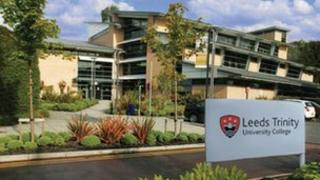 Leeds Trinity University College has confirmed it is seeking full university status under new government plans.
Last week the government announced that the number of students required for a university had been reduced from 4,000 to 1,000.
The college is one of 10 institutions across the UK to apply for a change of status.
Founded in the 1960s, it has 3,000 students and is one of just three Catholic colleges in the UK.
The institution grew out of two Catholic teacher training colleges in west Leeds. It runs courses in media, education and sports studies.
Prof Freda Bridge, the college's principal and chief executive, said: "This is a very welcome development.
"It will reduce confusion and further recognise our exceptional achievements in preparing graduates for the world of work with high-quality, professionally focused degrees."
The announcement on the change in requirements was made last week by David Willetts, the minister for universities and science.
Mr Willetts described the change to the status of small higher education institutions as "broadening the range of institutions that can be called universities and tackling a long-standing grievance".