Leeds flood couple unaware of £2.1m win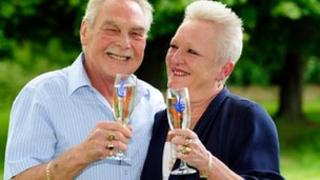 A West Yorkshire couple who mopped up their community centre after flooding said they would have done it anyway, even if they had known they had just become millionaires.
Robin and Lesley Palmer from Swillington, Leeds, won £2.1m in the National Lottery on 9 June.
They did not realise they had won until they checked the numbers on 15 June.
Mr and Mrs Palmer tackled flooding at Swillington Miners Sports and Social Club on 10 June.
The couple have used the same random numbers since 1994, and play five lines twice a week.
Flooded streets
Mrs Palmer, 62, who is president and director of the social club, said rain was pouring through the ceiling when they arrived there the day after their win.
"I didn't know at that point I was a millionaire and so I was mopping up, although I would have done that anyway," said Mrs Palmer.
Mr Palmer, 65, who retired after a career in research and development in May, said they got a lift to the club that night because they could not walk down the flooded streets.
"Little did we know we could have hired a helicopter," he said.
Mrs Palmer said she checked her account after having a dream about becoming a millionaire.
The couple said they would buy a new car, go on holiday and carry out renovations to their bungalow with their winnings.