Leeds-based Opera North awarded £3m Arts Council fund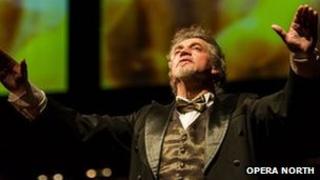 A West Yorkshire opera company has been awarded a £3m Arts Council fund which it hopes to triple in value in the next three years.
Leeds-based Opera North said it would use the Catalyst Endowment Fund to attract matched funding from private donors and Arts Council England.
Richard Mantle, Opera North's general director, said the award was a "strong endorsement" of its cultural role.
The fund meant more stability in a "tough" climate, Mr Mantle said.
Opera North is one of 34 arts and heritage organisations in England to be awarded Catalyst Endowment Funds amounting to £56m.
The successful projects are all expected to attract an additional £106m from private and corporate donors.
'Excellent track record'
Applications for the awards were assessed by an independent panel led by former Conservative cabinet minister Michael Portillo.
The award showed Opera North was "a vital part of the cultural landscape of the north of England", said Mr Mantle.
"It will enable such work as the continuation of our commitment to the newly established 90-strong children's chorus, running outreach work, and supporting the critically acclaimed national tour of The Ring Cycle," he added.
Cluny Macpherson, regional director of Arts Council England, said Opera North had an "excellent track record" of raising funds from trusts, foundations, businesses and individual donors.
"They are a great example of how, through collaboration and shared expertise, to help build resilience, the arts can thrive in a tough economic climate," he said.