Arrests in West Yorkshire and Selby over football disorder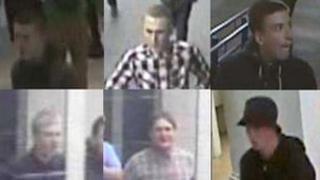 Detectives have arrested 26 people following "large scale" football disorder in Huddersfield.
CCTV images were released last week of men wanted over trouble on 19 May on the afternoon of the Championship Play-Off Final.
West Yorkshire Police said gangs chased each other through central Huddersfield and into the town's railway station.
Officers arrested suspects from Huddersfield, Leeds, Bradford, Wakefield and Selby.
They are aged between 15 and 47.
Further CCTV images have also been released of additional suspects.
Police said they believed fans of Huddersfield Town, Bradford City and Leeds United were involved in the disorder.
Acting Det Sgt Nick Doyle, of Huddersfield CID, said: "Huddersfield CID want to send out a clear message to so called fans who want to cause trouble at any future encounters that we will not tolerate it."