Mid Yorkshire Hospitals trust needs 'radical change'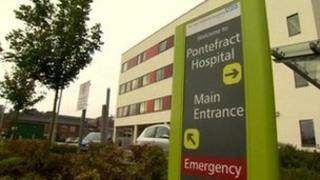 An NHS trust has called for "radical changes" to address its long-term financial problems.
Mid Yorkshire Hospitals NHS Trust, which covers Wakefield and the surrounding area, has to save £24m in the next financial year.
The trust is considering centralising emergency, acute medicine and maternity services at one site.
Last year, the A&E unit at Pontefract Hospital was temporarily closed overnight due to staff shortages.
The trust was forced to back down from a plan to bring in Army medics at Pontefract Hospital to cover a shortage of doctors following criticism of the plan from patients and MPs.
The trust said that it had held a meeting involving NHS Commissioners, patient representatives and local GPs to try to come up with ways "to help develop options for delivering local hospital services".
'Best outcomes'
Stephen Eames, interim chief executive at the trust, said: "The scale of the issues facing this organisation means that we need to take a much more radical approach to ensure our services are viable now and into the future.
"By viable we mean services that are safe, give the best outcomes for patients and that are affordable for the longer term."
The trust has a deficit of £19.2m for 2011-12, despite receiving £14m in additional support from NHS commissioners.
Earlier this year, the trust asked hospital staff to reduce their working hours and take unpaid leave to save money.