Leeds education chief defends city's primary schools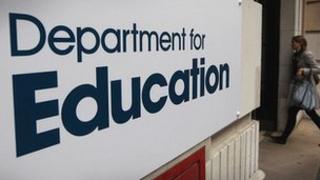 The head of education in Leeds has defended the city's underachieving primary schools against plans to force them to become academies.
Education Secretary Michael Gove said private sponsors should take over all primary schools in special measures.
More Leeds primary schools fail to reach minimum standards than anywhere else in England, figures show.
Nigel Richardson, Leeds director of children's services, said the authority was one of the "fastest improving".
'Working together'
Out of 30 Ofsted inspections carried out in Leeds schools since January this year, 24 were rated as good and only one was identified as inadequate, said Mr Richardson.
Leeds City Council had a "very good" working relationship both with the Department for Education (DfE) and the city's schools, he added.
"We are all working together very positively and at no time have we been told by the DfE that we are being targeted in such a way."
Department for Education figures show that 34 out of 218 Leeds primary schools are not reaching government-set minimum "floor" standards.
According to these standards, at least 60% of children at a school must have reached a basic level in English and maths at 11-years-old.
'Morally reprehensible'
Leeds also has the second highest proportion of schools below the minimum standards compared to other similar local authorities, DfE figures show.
In a speech on Tuesday, Mr Gove said it was "morally reprehensible" to allow poor standards to continue.
Under the 2011 Academies Act, the DfE has the power to force under-performing schools to become academies.
A DfE spokesman said it was the department's job to crack down on underachieving schools wherever they were in the country.
"Academies are a proven way of growing standards because they give more freedom to teachers, more freedom to heads and they do away with bureaucratic interference," he added.