Businesses to re-open in West Yorkshire a week after floods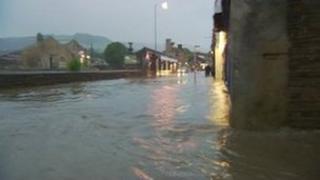 Business owners affected by the recent floods in West Yorkshire have vowed to re-open this weekend.
More than 500 homes and businesses in Hebden Bridge, Todmorden and Mytholmroyd were flooded when a month's rain fell in 24 hours last Friday.
Traders are urging people to support the local economy during the clean-up.
A community parade is to take place in Hebden Bridge on Saturday. Organisers said it would be a "welcome boost to local businesses".
Marcus Doyle, who owns two shops in Hebden Bridge, said: "We all want to be back up and open for Saturday.
"It may not be business as usual but it's business as usual as it's going to get in Hebden Bridge."
Owners of a family-run furniture shop in Mytholmroyd said 18ins of flood water had caused about £800,000 of damage.
'Utter devastation'
Sales manager Nola Moran said despite the ground floor of its two-storey showroom remaining closed, the firm was continuing to trade.
"It's been utter devastation. We were helpless, we couldn't come into the store, we had to wait for an electrician to make it safe. Things were floating.
"But business has not stopped. We're carrying on trading."
Beauty therapist Rebecca Haigh said she had bought a shop in Mytholmroyd two weeks ago which was damaged by nearly 2ft (0.6m) of flood water.
She said she would have to now work as a mobile beautician while her shop was drying out.
B&B owner David Henry, from Hebden Bridge, said he had been forced to close his business after his property was left under 5ft (1.5m) of contaminated flood water, causing damage estimated at £200,000.
A community parade is to take place in Hebden Bridge on Saturday.
Rebecca Dearden, organiser of the Hebden Bridge Handmade Parade, said: "Thousands of visitors are expected and it should give a welcome boost to local businesses that suffered so badly in the floods."
The government has been urged by shadow environment secretary Mary Creagh to provide financial support to the clean-up costs faced by flood-hit communities.
During a visit to Todmorden on Thursday, Prime Minister David Cameron was confronted by resident Kathleen Simpson.
Mr Cameron said he would do "everything we can" but could not "protect" communities from severe rainfall.