West Yorkshire Police hold sexual grooming conference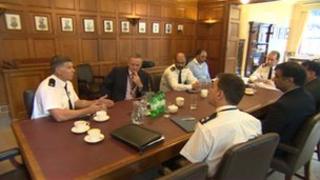 Police and members of the Muslim community have held a conference in Wakefield to discuss ways of combating the sexual grooming of young girls.
West Yorkshire chief constable Sir Norman Bettison met members of the Bradford Council for Mosques.
Police had called for a meeting after recent cases in Rochdale and Yorkshire.
Mr Bettison said the community had voiced support for the police in "ruthlessly" pursuing offenders.
Zulfiqar Karim, general secretary of the Bradford Council for Mosques, said the community was becoming more aware of the problem.
He said: "Culturally it's not acceptable. Religiously, morally it's not acceptable. It's not tolerated."
Mr Karim said he thought the problem was not an issue just facing the Asian community.
He said: "I think young men are the same in all communities. The problem of the situation that we have with young men across the board is no different with the Asian community."
Sir Norman Bettison said that sexual grooming affected "the whole spectrum of communities".
He said: "Whatever communities it takes us into. Whatever the evidence reveals, we will investigate and prosecute those who are responsible."