Mother was Yorkshire Ripper victim Irene Richardson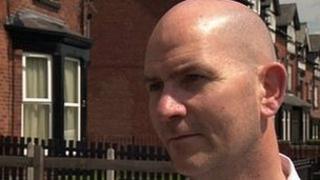 A man has described his "shock" at discovering he is the son of one of the Yorkshire Ripper's victims.
Geoff Beattie, 42, from St Helens in Merseyside, was adopted soon after he was born and made the discovery while searching for his birth mother.
He was told his mother, Irene Richardson, was murdered in Leeds in 1977, but he later discovered she was one of Peter Sutcliffe's victims.
Mr Beattie said he was committed to finding out all he could about her.
'I was devastated'
Ms Richardson, 28, was working as a prostitute in Leeds at the time of her murder in February 1977 and was the third of Sutcliffe's victims.
Sutcliffe, a lorry driver from Bradford, killed 13 women in the north of England throughout the late 1970s and early 1980s.
He also attempted to murder seven other women before he was caught by police.
He was given 20 life sentences in 1981 and was told in 2010 he would never be released from prison.
Mr Beattie made his discovery on the internet as he was trying to find his birth mother for medical reasons.
He said he "couldn't believe" that his mother was one of the Ripper's victims.
"Not only had she been murdered, but to suddenly be associated with everything else that had gone on, I can't describe it. I was devastated," he said.
'Complete picture'
Following his discovery, Mr Beattie said he wanted to find out more about Ms Richardson, including a visit to Cowper Street, in the Chapeltown area of Leeds, where she once lived.
"I'm never going to meet her and it's taken me a while to come to terms with everything that went on," he said.
"But if I can build up a picture of her life and the person she was, that will complete that picture of her."
Mr Beattie said he hoped to speak to anyone who knew his mother while she was still alive.
"I know there are people out there who will remember mum and have had good times with mum," he said.
"I know there's more to her life than just those last couple of weeks, and certainly more to it than the end that everybody knows about.
"I want to know the person. I want to know my mum."