Protesters move Bradford Westfield camp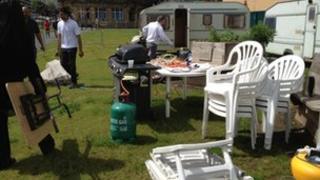 Protesters camping on a derelict site in Bradford earmarked for a shopping centre have left following a court order for eviction.
The group, Occupy Westfield, pitched tents on 26 May to raise awareness about the lack of progress on the Westfield retail scheme.
Work started in March 2004 but was halted in February 2008 leaving a building site in the city centre.
The protesters have moved to nearby land currently used as an urban park.
The short move followed a court hearing at Bradford County Court ordering the protesters to leave land owned by the developers, Westfield.
About 30 protesters moved three caravans, several tents, a barbecue and chairs by hand the short distance to the new area.
Bradford Council leases the urban garden site from Westfield.
Leader of the council David Green said he understood the frustration of waiting for the centre to be built and the right to peaceful protest.
"However, Bradfordians should be able to continue using and enjoying the urban garden and the council is considering what action may be necessary to ensure that remains the case should the protest carry on," he added.
Mr Green asked the protesters to consider that any legal costs for the council would have to be met from budgets already under considerable pressure.
Protesters are considering how and where the protest will continue.