'Anxious wait' for Leeds children's heart unit decision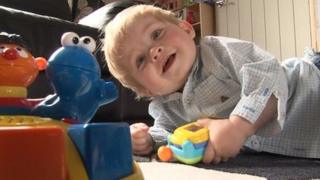 After undergoing open heart surgery when he was just eight weeks old, Riley Platts spent the first nine months of his life in Leeds General Infirmary (LGI).
His parents credit the staff there with saving their son's life and the threat hanging over the children's heart surgery unit is worrying them, especially as Riley will need at least four more operations during his childhood.
The 16-month-old, from Guiseley, near Leeds, was diagnosed with truncus arteriosus - which means only one artery connects to the heart instead of two - before birth.
His mother Kathryn Walker told the BBC: "Knowing that we have all the experts who have known him since birth on our doorstep is so reassuring and now it's very uncertain.
"You can't help but worry about it because we are faced with Riley a very uncertain future."
'Outstanding care'
Miss Walker said the staff at the unit were like a "second family".
She added: "I feel closer to the staff on the ward at times than I actually do my own family because we spent so much time with them. The nurses are like sisters and really good friends.
"We wouldn't have Riley if it wasn't for the staff at the LGI. We've had excellent, outstanding care. Why change it?"
Miss Walker and Riley's father David Platts are among thousands of people who have campaigned to keep children's heart surgery in Leeds.
The NHS Safe and Sustainable group is carrying out a review of children's congenital heart services which aims to create fewer, larger centres.
At a meeting later it will be decided which of the 11 units in England will continue to carry out surgery. If operations in Leeds cease, patients will have to travel to Newcastle or Liverpool.
The campaign to keep surgery in Leeds has had support from parents, local charities, local councils, MPs and members of the public.
A petition launched last year has been signed by more than 600,000 thousand people.
Steph Ward, whose three-year-old son Lyall was operated on in Leeds, said the end of children's heart surgery in the city "doesn't bear thinking about".
Lyall, who has Down's Syndrome, spent seven months in the unit after having heart surgery and developing complications in his lungs and airways. He will need further surgery in the future.
Big decision
Miss Ward, from Leeds, said: "We have done so much in the campaign, we have put across such strong arguments for Leeds.
"It's sometimes felt as though the decision's already been made. It is a really anxious wait.
"I really do believe that Leeds should stay open. It's not just about it being my unit, it's about the logic of geography... the fact that Leeds has the capacity to step up to 500 operations much more easily than Newcastle has and it's such a big decision and it can't go the wrong way."
Miss Ward said her son's long stay in hospital "nearly broke us as a family, financially, emotionally".
"To consider having to go through that again and also have to be a long way away, it just fills you with dread."
Kevin Watterson, a congenital heart surgeon at Leeds, said the fight to keep surgery at the hospital would continue if the decision is made to end it.
He said: "In a way it's simple, it should be based on population density and we have a big enough population to have a unit.
"If the decision is yes, well we'll have a party. If the decision is no then we man the battlements again."