Offensive Facebook message trial adjourned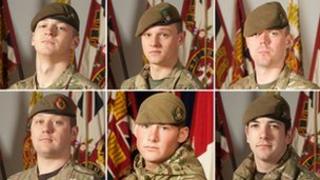 The case of a teenager accused of posting an offensive Facebook message about the deaths of six British soldiers in Afghanistan has been adjourned.
Azhar Ahmed, 19, was due to go on trial charged under the Communications Act 2003 with sending a message which was grossly offensive on 8 March.
But a district judge at Huddersfield Magistrates' Court adjourned the case.
Mr Ahmed, of Fir Avenue, Ravensthorpe, West Yorkshire, denies the charge.
He was given unconditional bail and will appear again on 14 September.
The six soldiers were killed by an improvised explosive device (IED) in Lashkar Gah on March 6 in the deadliest single attack on British forces in Afghanistan since 2001.
Sgt Nigel Coupe, 33, of 1st Battalion The Duke of Lancaster's Regiment, was killed alongside Cpl Jake Hartley, 20, Pte Anthony Frampton, 20, Pte Christopher Kershaw, 19, Pte Daniel Wade, 20, and Pte Daniel Wilford, 21, all of 3rd Battalion the Yorkshire Regiment.