Calderdale Council £250,000 fund for flood-hit businesses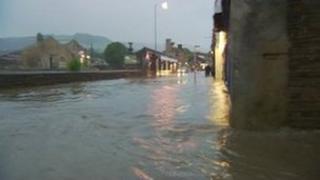 A West Yorkshire council has set up a fund to help flood-hit businesses get back on their feet.
Calderdale Council said £250,000 would be made available to more than 200 businesses affected last month.
Councillor Tim Swift, the authority's leader, said many businesses had reopened but some were "in real need of practical and financial help".
The cash will be used to give short-term help and longer-term help to ensure businesses are sustainable.
Councillor Barry Collins, cabinet member for economy and environment, said: "We also hope that some of the larger businesses and organisations in Calderdale and across the wider region will follow the council's lead and think about how they can help.
"Residents in the Calder Valley have shown magnificent community spirit, helping each other to pick up the pieces following the devastating floods."
The council said over the coming days it would be working out the details of how businesses could ask for help.