Decision to stop child heart surgery in Leeds unites councils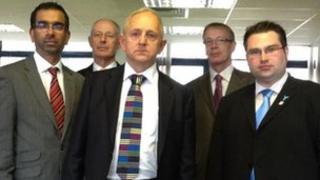 Leaders of six Yorkshire councils have joined forces to urge the government to rethink a decision by NHS bosses to end children's heart surgery in Leeds.
On Wednesday it was announced surgery should stop at Leeds General Infirmary.
Families in Yorkshire and the Humber region will instead have to travel to Newcastle or Liverpool for surgery.
Council leaders at York, Kirklees, Wakefield, Bradford and Calderdale are backing Leeds City Council's appeal to the secretary of state for health.
MPs of all parties in the region are also calling on the government to rethink the move.
'Disappointment, anger'
An official review concluded Leeds General Infirmary should stop surgery so care could be concentrated at fewer, larger sites to improve standards.
Campaigners fighting to keep it had held protests and gathered more than 600,000 signatures on a petition.
The children's heart unit will remain open as it will be allowed to continue seeing patients for diagnosis, monitoring and non-surgical treatment.
Leeds City Council said a motion confirming the authority's support for an appeal to the secretary of state would be put to the full council.
A joint statement from the leaders of political parties at Leeds said: "The outpouring of disappointment, anger and frustration at yesterday's decision is a clear signal that the unit is viewed as vital by people across the region."
It added: "We are totally committed to fighting this decision on behalf of the 14 million people living within a two hour drive of Leeds and will be referring it immediately to the secretary of state."