Killer stabbed Casey Kearney 'for hospital admission'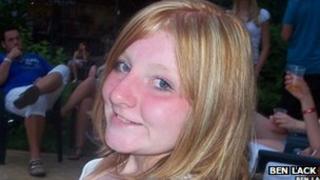 A jury has been asked to consider whether a woman stabbed a 13-year-old girl to death in a Doncaster park in order to get admitted to hospital.
Prosecutor Graham Reeds QC made the suggestion in his closing speech in the trial of Hannah Bonser, 26, accused of murdering Casey Kearney.
Mr Reeds said it was the prosecution case case that Ms Bonser was suffering from a personality disorder.
He said she had made previous attempts to get admitted to hospital.
Sheffield Crown Court has heard Ms Bonser stabbed Casey once in the stomach in a random attack on Valentine's Day as she headed for a sleepover at a friend's home.
'Possessed by demons'
Ms Bonser's legal team claims she has paranoid schizophrenia and was suffering from diminished responsibility at the time of the stabbing.
Mr Reeds told the jury this was not a diagnosis accepted by other mental health experts who had examined her over the years.
He said the prosecution's case was that she was suffering from a personality disorder which did not "substantially impair" her ability to understand what she was doing.
Mr Reeds took jurors through Ms Bonser's psychiatric history and asked them to think about previous attempts to get admitted to hospital.
He also considered her long campaign to get rehoused from her Doncaster flat which she told people was possessed by demons.
He said: "Given her history, there may be something in her having carried out the attack in some ways to get into hospital."
He added: "It is very common with people with this kind of personality disorder to seek detainment.
"In this defendant's case there's a history in the clinical notes on various occasions, as recently as January, almost pleading for hospital admission."
Mr Reeds asked jurors to consider whether Ms Bonser had made up some of her symptoms.
He said one consultant psychiatrist had been sceptical because she appeared to have a "full set" of symptoms of schizophrenia, which was not usual.
David Fish QC, defending, dismissed that and said it did not make sense that Ms Bonser would make up symptoms.
Ms Bonser of Cusworth House, Doncaster, denies murder but admits killing Casey.
The trial continues.