Liam Shackleton inquest: Sister tried to stop fall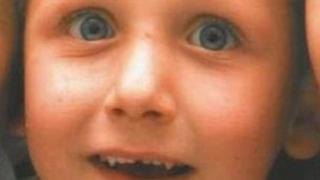 The sister of a six-year-old boy who plunged to his death from the eighth floor of a tower block may have tried to save him, an inquest has heard.
Liam Shackleton accidentally fell from the window in Leeds in May 2011 after climbing on to a chest of drawers.
His 10-year-old sister grabbed Liam as he climbed and may have been trying to prevent him from falling, the inquest at Wakefield Coroner's Court heard.
Coroner David Hinchliff recorded a verdict of accidental death.
Mr Hinchliff added that he would be writing to the landlord of the property on Lindsay Mount in the Lincoln Green area of Leeds to recommend fitting all windows with static inhibitors to stop them opening too wide. He said he would also recommend regular inspections of properties for safety.
The inquest heard Liam, his mother, father and four siblings, had been living in the one bedroom flat of their grandfather for three weeks while they waited to be rehoused.
Mr Hinchliff said the window in the bedroom was opened as the room became "very warm and stuffy".
Mr Hinchliff told Liam's parents Martin and Tanya Shackleton: "When you are living in what was an unsuitable and cramped condition because of the circumstances you were in, it does mean even further diligence and supervision has to be made when you have hyperactive children, who understandably have no sense of danger and are too young to have regard for their own safety."