Chinese order for Ginetta cars from Garforth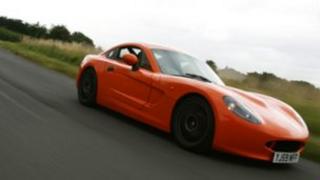 A niche motor manufacturer could create up to 60 new jobs at its West Yorkshire factory after signing a 50-car deal with a Chinese distributor.
Ginetta manufactures about 300 road and race cars annually at its factory at Garforth, Leeds, with a staff of 60.
The deal comes as the Chinese Olympic team arrives at its Leeds base.
Lawrence Tomlinson, chairman of Ginetta, said: "The Chinese delegation being in Leeds with the Olympics has benefited us."
The deal will see the company's G60 and G40R road cars sold in China.
Mr Tomlinson said: "The cars are quirky and very British, [the Chinese] just love the shape of the cars."
The deal could also lead to expansion of the Garforth works as the factory steps up production.
About 80% of Ginetta's car production is now for export, said Mr Tomlinson, a trained engineer who bought the firm in 2005.
He said the Chinese were attracted to the luxury cars as their economy expanded and consumers had new wealth to spend on luxury goods.
The firm has been building cars since 1958.