Panel to review Leeds child heart surgery plan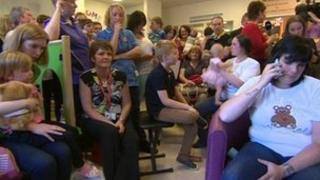 An independent panel is likely to review plans to end children's heart surgery at Leeds General Infirmary, MPs have been told.
A review concluded Leeds should stop surgery so care could be concentrated at fewer, larger sites.
In the Commons MPs urged ministers to re-examine the decision.
Health Minister Simon Burns said Health Secretary Andrew Lansley would "almost certainly" refer the concerns to the Independent Reconfiguration Panel.
The panel will then advise the secretary of state whether the plans should go ahead.
If surgery ends in Leeds, families from Yorkshire and the Humber region will instead have to travel to Newcastle or Liverpool.
Concern 'understood'
A formal representation has been made to Mr Lansley by local authorities concerned about the proposal.
Greg Mulholland, Liberal Democrat MP for Leeds North West, said there were "serious questions" about the way the decision was made.
Jason McCartney, Conservative MP for Colne Valley, said: "There is this assumption all the patients at the Leeds unit will automatically migrate to Newcastle and I think that's a big flaw in the assessment made here."
Mr Burns said he recognised the strength of feeling and emotion on the subject and understood that the reorganisation of children's cardiac services was a matter of "real concern" for families involved.
However, he said there was a feeling the time for change was "long overdue" and quality of care was "far more important" than defending local hospitals.
The Yorkshire and Humber local government group, which represents authorities across the region, has made representations about the decision to Mr Lansley.
Mr McCartney said the local oversight and scrutiny committee was also set to make its own complaint, which Mr Burns indicated would be referred to the Independent Reconfiguration Panel.