Halifax Georgian Piece Hall awarded lottery grant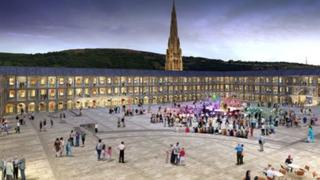 A bid for lottery funding to help transform an 18th Century cloth hall in West Yorkshire has been successful.
Calderdale Council wants to restore and repair the Piece Hall, a Grade I-listed building in Halifax, which was built in 1779 as a hall for trading cloth.
Work on the £19m project will start in late 2013 and be completed in 2015.
The Heritage Lottery Fund (HLF) has agreed to invest £7m in the project. The council said the announcement was "fantastic news".
'National treasure'
The revamped Piece Hall will include a visitor and heritage centre, shops, restaurants, workspaces for creative businesses and a conference venue.
The courtyard will also become a "spectacular public space" for markets, concerts and festivals, the council said.
Calderdale Council, which is funding a large part of the project, is also exploring other funding options.
Councillor Tim Swift, leader of the council, said: "A revitalised Piece Hall will be a magnet for visitors, offering a spectacular heritage attraction and public space and excellent leisure and retail business opportunities.
"This will be of huge economic benefit to the town and to Calderdale as a borough."
He added: "We put a great bid together and the HLF's decision confirms what Calderdale people have always known, that the Piece Hall is a national treasure and a huge asset to the region."
Fiona Spiers, head of the HLF for Yorkshire, said the award would "help create a vibrant piazza which will retain the integrity of the 18th Century architecture and celebrate its role in West Yorkshire history".