Doe Park reservoir pollution kills at least 1,000 fish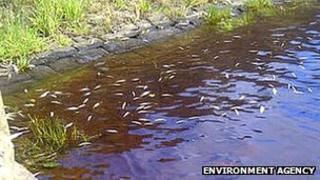 At least 1,000 fish have been killed due to pollution at a West Yorkshire reservoir, the Environment Agency (EA) has confirmed.
The incident, at Doe Park reservoir, Denholme, was believed to have happened on Sunday, the EA said.
The cause of the pollution was still unknown but water samples had been taken for testing, the agency said.
Hydrogen peroxide was being pumped into the reservoir to raise oxygen levels for the surviving fish, the EA added.
'Dead and distressed'
The Environment Agency confirmed that mostly roach and bream had been killed as a result of the pollution, but perch and pike had also been affected.
The pollution could have occurred naturally but it would be some days before the results of the tests would be known, the EA said.
Pete Turner, fisheries officer for the Environment Agency in West and South Yorkshire, said it was "upsetting" to find so many dead fish.
"It's affected the whole of the reservoir. We're seeing many dead and distressed fish," he said.
"It's certainly something we never want to see but we have to accept it."