Milk price row: Arla Food UK makes u-turn on payment cut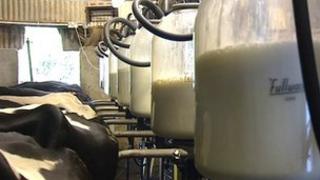 A West Yorkshire food processing firm that planned to reduce the amount it pays to dairy farmers has announced the price cut will not now go ahead.
Leeds-based Arla Foods UK had said earlier in July it was going to drop the price it paid farmers for their milk from next month.
But farmers will now continue to receive 27p per litre, the firm said.
Dairy farmers have held two protests outside the firm's plant in Stourton, Leeds, over the past week.
'Unprecedented weeks'
The decision to abandon the price cut was made after discussions with customers and members of the Arla Foods Milk Partnership, the firm said.
The partnership represents about 1,400 members and supplies about 1.6bn litres of milk annually to Arla Foods.
The company said the move came after "an unprecedented two weeks of activity" within the dairy industry.
Farmers across the country have held a number of protests in the past week against cuts of up to 2p a litre in the amount they receive from the major milk processors.
Charles Platt, a West Yorkshire dairy farmer, who joined the protests against the planned Arla Foods price cut said a price freeze was still not enough.
"Dairy farmers are carrying too many costs at the moment to sit back and accept a price hold," he said. "We need a bit more besides."