Celebrating Marsha Singh, a former Bradford MP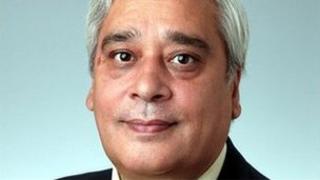 Marsha Singh's funeral was a celebration of the life of a man who always described himself as a "Bradford MP rather than a Westminster MP".
It was a view echoed by family, friends, supporters and local politicians of all political colours who turned up in their hundreds at the city's Scholemoor Crematorium.
There were so many that the leader of the city council and many former and current MPs could be seen outside among the over-spill crowd listening to the service on loudspeakers.
The neighbouring Bradford South MP, Labour's Gerry Sutcliffe, told me that Marsha enjoyed his seven years on the influential International Affairs Committee but his main efforts were made much closer to home.
Mr Sutcliffe said: "He was proud of the contribution he made to Bradford.
"It showed in his personal support. In recent elections his majorities reversed the swing against Labour across the country."
'True Bradfordian'
Time and again the man who came to Bradford as a child from his native Punjab was remembered as a "True Bradfordian".
Throughout his schooldays former classmates said he had clear academic abilities but even then he distinguished himself by standing up against prejudice.
After graduating from Loughborough University he returned to the city to work in community relations followed by a law centre and the community health trust before his election as one of the country's first Asian MPs in 1997.
Liberal Democrat David Ward said he knew, admired and debated with Marsha Singh for 30 years.
When he eventually followed him into the House of Commons by taking the Bradford East seat in 2010 Marsha Singh freely gave help and advice to help him settle in.
He said: "There are certain MPs who use their constituencies. There are other MPs who serve their communities and constituents. Marsha was certainly the latter".
There was also praise from George Galloway, the Respect MP who brushed Labour aside and took Bradford West at the by election following Marsha Singh's early retirement.
Mr Galloway is out of the country and was unable to attend but his floral tribute reflected admiration from the years when both had stood side-by-side as back benchers.