Olympic cyclist Lizzie Armitstead's sexism comments 'brave'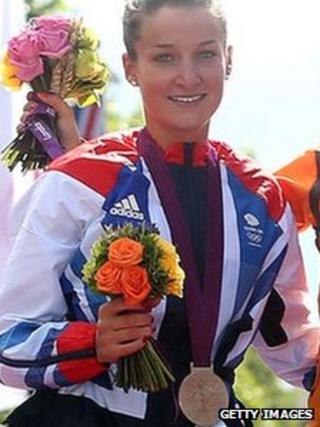 The brother of Olympic cyclist Lizzie Armitstead has praised her bravery in speaking out about sexism in the sport.
Armitstead, from Otley, West Yorkshire, won Britain's first 2012 medal in the women's road race.
She later said the sexism she encountered could get "quite overwhelming and very frustrating".
Nick Armitstead, an amateur cyclist, said her sport did not get the recognition it deserved and more live coverage was needed.
The 27-year-old, who also lives in Otley, said: "I am very interested in the men's sport, I absolutely love watching it but I would love it to be the same in the women's sport.
"The women's race is as exciting as most men's races at the Olympics."
'Determined and courageous'
Mr Armitstead said now, while women's racing was at the forefront of people's minds, was the perfect time for the issue of sexism to be raised.
He said: "The general public don't usually see women's cycling. It was the perfect time for Lizzie to get their attention.
"It was brave of her to do that but she's very determined and courageous."
Mr Armitstead said it was frustrating to not be able to watch all of his sister's races on television.
He said: "The only information I have is what Lizzie tells me or through my dad. We sometimes find out the results but not how it happened."
He said watching his sister win her medal was "surreal".
"I know Lizzie's a professional cyclist but I couldn't believe that it was my sister getting silver in the Olympics."
British Cycling, the national governing body for the sport, said there had traditionally been an inequality within cycling, as there had been with other elite sports.
Spokesman Paul Rowlands said: "Now is a great opportunity to start to tackle that head on and see what can be done to improve the profile of the women's sport and capitalise on the profile that the girls like Lizzie are giving to the sport today."