Brownlee brothers' sibling rivalry 'will be key' to triathlon success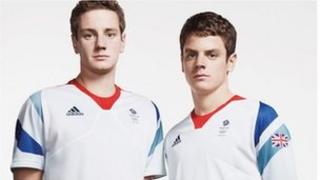 Sibling rivalry is key to the success of the Brownlee brothers in the Olympic triathlon which gets under way later.
That's the view of fellow West Yorkshire athlete Martin Peace, the chairman of Bingley Harriers who has trained alongside both Alistair and Jonny Brownlee.
"Being brothers means they're even more competitive with each other than with everybody else," Mr Peace said.
The brothers, who train in Otley, are strong contenders for gold and silver in the event which starts at 11:30 BST.
Alistair, 24, is twice world triathlon champion and a double gold medallist at the European Championships.
Jonny, 22, has been competing in triathlons since the age of 10.
Two coaches full of friends, family, and runners from Bingley Harriers left West Yorkshire at 04:30 BST to cheer on the brothers in London.
'Laid back but competitive'
The triathlon involves a 1500m swim in the Serpentine at Hyde Park, followed by a 40km bike ride via Buckingham Palace and Hyde Park Corner, then back to Hyde Park for a 10km run.
The event typically takes the brothers around one hour 45 minutes to complete.
"They're so laid back but if they get within 5km of the finish you'll see how competitive they are - they don't like to be beaten by anybody," Mr Peace said.
"But you couldn't meet two nicer guys - they're lovely lads and always as accommodating as they can be.
"We'd like either of them to be successful."
Ahead of the competition, Alistair Brownlee told the BBC: "If I can stand on the start line and say I've done everything I can to be here, in the best possible shape, I couldn't ask for more."
Jonny said: "The nation is putting a bit of pressure on you [but you] can't really worry about that - you focus on your own race.
"You try the hardest you possibly can; if that's not good enough then that's not good enough."
Alistair said: "I think we'll both be sprinting hell for leather [in the home strait].
"There's so much that could go wrong, though. For us both effectively to have a good race is a very big ask."