Leeds' Olympic joy for brothers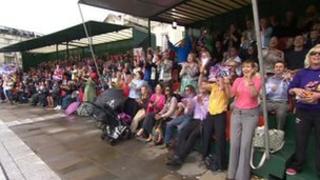 There were jubilant scenes in the Brownlee brothers' home city of Leeds as hundreds watched them take Olympic gold and bronze in the triathlon.
Crowds in Millennium Square cheered and stamped their feet as Alistair and Jonny finished.
Chants of "Brownlee, Brownlee" rang out as around 500 people watched the competition on a big screen.
Louise Hanley, a coach with the Leeds Met triathlon team, said Alistair had "shown the world what he's made of".
She added: "I'm over the moon for them. They've got medals at the Olympics, what more can you say?"
As Alistair crossed the finish line hundreds clapped and cheered.
Members of the Leeds Metropolitan University triathlon team, where the brothers train, were among those cheering the pair to glory.
Triathlete Robert Bridges said: "This was exceptional for Alistair and getting the bronze is a fantastic achievement for Jonny.
"I've trained with them for about three years and they're just sound guys.
"If they saw you in the street, they'd chat to you. They're average guys who are just fantastic at triathlon."
He added: "Alistair really wanted that medal. If you think of all the injuries he's had over the last few years, it's more a relief, I think.
"There was so much pressure on him, it's just amazing what he's done."
'Yorkshire animal'
Another team-mate Oliver Shannon said: "I think it's a brilliant result.
"The right athlete won on the day. Alistair's been the best in the world for two or three years now and good on Jonny for coming third.
"It's brilliant for triathlon, especially in Leeds and Yorkshire. I think participation is going to rocket."
A group of nurses from Leeds General Infirmary, where the Brownlee brothers' father Keith works as a consultant paediatrician, were vocal in their support.
They said they arrived early to get their seats on the front row of the stand, where they waved flags and cheered loudly throughout the event.
Dave Woodhead, a friend of the brothers who watched the London 2012 opening ceremony with them at their house, said: "Alistair is muck and nails. He's a Yorkshire animal.
"Gold is what he wants and his motto is 'Who dares, wins', so for me the outcome was a done deal.
"Jonathan will be really chuffed for Alistair and he'll be chuffed with a bronze medal. But Jonny's time will come, there's no doubt"
Mr Woodhead was watching the final at the packed Old Sun Hotel in Haworth, West Yorkshire, where he and wife Eileen organise fell races which the brothers have competed in since they were children.
More than 200 spectators crammed into the Old Sun - which is popular in local running circles - generating an electric atmosphere.
The buzz erupted into cheers as the brothers crossed the finish line.