Brownlee brother's Horsforth post box and stamp honour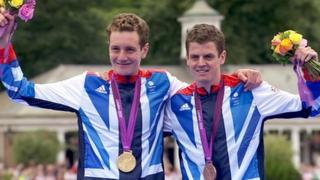 A post box has been painted gold in Horsforth in Leeds to mark Alistair Brownlee's win in the Olympic triathlon.
Alistair, 24, came first while his brother Jonny, 23, took bronze.
Royal Mail is painting a post box in the home towns of British Olympic champions, with Alistair's tribute being on New Road Side.
Meanwhile, the brothers told the BBC they were more competitive at Monopoly than they were at racing each other.
Jonny said: "We are more competitive over stuff like Monopoly, table tennis and badminton, than we are in triathlons.
'Massive advantage'
"You kind of realise that when it comes to triathlons you can use each other... we can push each other on.
"In training, we can use each other massively, it is a massive advantage that we have got."
A special stamp has also been printed in Alistair's honour.
The pair, who train in Yorkshire, applauded the county for its contribution to their success.
Jonny said: "We do a lot of training, probably 35 hours a week, and 25 hours of that is just outside.
"So we are cycling and running mostly and doing 10 hours probably of swimming.
"It is where the roads are nice, where there are nice paths and trails to run on, where the environment is inspiring and a good place to train.