Flood prevention work finishes on Dunhill 'risk' estate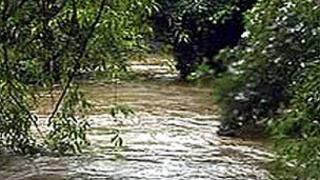 Work has finished on a £500,000 flood prevention scheme for a West Yorkshire community which was badly hit by floods in 2007.
Properties near Wyke Beck, a tributary of the River Aire, have been flooded three times since 2004.
The Environment Agency (EA) said the prevention work would protect 70 homes on the Dunhill estate in Halton in the east of Leeds.
A residents' spokesman said he hoped it would stop a repeat of the "misery".
Local flood warden Tracey Simpson said: "The recent heavy rain made the beck the highest it has been since it flooded us in 2007, but the work done appears to have stopped the beck from overtopping.
"It was great relief that there was no flooding this time."
David Davenport, a local resident and chairman of Dunhill Flood Action Group, said residents were relieved the flood measures would prevent a recurrence of the "misery" they experienced in 2007.
The prevention work started in July 2010 and was funded by the Yorkshire Regional Flood and Coastal Committee.
Although the work is finished, EA officers are due to return in the autumn to remove vegetation upstream of the beck.