Lizzie Armitstead welcomed home to Otley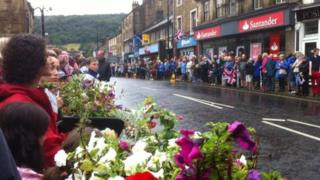 Olympic medallist Lizzie Armitstead's home town has held a celebration of cycling to welcome her back.
Armitstead went on an open-top bus tour of Otley, which was followed by a procession of cyclists - among them her grandmother, Marjorie Dunn.
Despite the rain, the bus's route around the West Yorkshire town was lined with cheering spectators.
The 23-year-old cyclist won Team GB's first medal of the Games when she took silver in the women's road race.
Armitstead said: "It's what I've been waiting for for two weeks, it means more to be home."
She brushed off the weather conditions as "just a little bit of rain", adding: "It's been a fantastic Games for Team GB and for Yorkshire."
'Silver postbox'
Armitstead was talent spotted to take part in cycling as a youngster at school and, at the time, told her father it was her ambition to cycle for Great Britain.
Mary Thorpe, who was waiting in the crowd near the centre of town said: "This is our girl, Otley's girl.
"I don't see why we shouldn't have a silver postbox."
Otley Mayor Mary Vickers previously said Armitstead's silver medal had helped put the town on the cycling map.
"We are a popular destination for cyclists already and we have a very successful cycle race each year which Lizzie attends," she said.
"She was the first lady to get a medal, which was brilliant, but for it to come to Otley is even better."